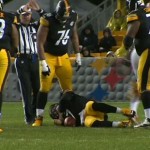 Pittsburg Steelers' quarterback Ben Roethlisberger sustained a sternoclavicular joint sprain on his throwing shoulder in their game Monday night against the Kansas City Chiefs.  He was driven to the ground by defenders and his right elbow hit the ground first, injuring his right shoulder.  Some of you may remember that this is the same injury that Brett Farve had that caused him to end his streak of 297 consecutive starts.  Farve returned the next week from this injury.
A sternoclavicular (SC) joint sprain is a fairly uncommon injury that involves the joint between the clavicle (collarbone) and the sternum (breastbone).  The ligaments and capsular tissue that hold this joint together are very strong, and it takes quite a bit of force to injure this joint.  This injury is most commonly seen in car accidents when a driver's chest strikes the steering wheel.  Severe injuries to the joint can result in dislocation of the joint, not just a sprain.  If the clavicle dislocates posteriorly, behind the breast bone, it can injure the large arteries or the airway and is considered an emergency.  This was the exact injury that St. Louis Rams' wide receiver Danny Amendola sustained earlier in the season, which caused him to miss four weeks.
Roethlisberger has been ruled out of this weekend's game.  This is a tough injury for a quarterback because it can be very painful, especially on the throwing shoulder.  Given Big Ben's history of playing through pain, unless the Steelers are not releasing all the details of the injury and it was actually a dislocation, then I believe he will only miss one game.
UPDATE:  More details of Roethlisberger's injury have now been released by their medical team.  In addition to the SC joint sprain, he also sustained a first rib dislocation.  Apparently Ben has stated that the rib pops back out of place with certain movements, indicating that it is still fairly unstable.  This is a very rare injury, and there is very sparse literature about this type of injury.  On my initial search, I only found isolated case reports of similar, but not exact, injuries.
The first rib is the smallest and the most curved of the ribs, and it has a rigid attachment to the sternum in the front of the chest.  This is a more serious injury than the SC sprain because if the rib is unstable, it could damage the subclavian artery if it dislocates again, which could result in life-threatening bleeding.  It is now very hard to predict when he will return, because there really isn't much information to go on.  As long as the rib continues to pop out with movement, he most certainly will not be cleared to play.  My instincts are that this will stabilize in a few weeks but only the doctors examining him will have reliable knowledge of when he can return.
Share