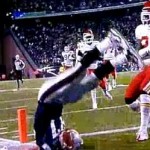 Earlier in the football season, I wrote about concussions and why they are a serious issue.  Last week during Monday Night Football, something happened in the NFL that highlights why concussions will likely continue to be a difficult injury for doctors and trainers to treat effectively.  Rob Gronkowski, a second-year tight end for the New England Patriots, took a hard fall onto his head and neck when he was flipped in the air on one of his touchdown catches.  He had some difficulty getting up and appeared a little out of sorts, stumbling slightly before spiking the ball in celebration after his touchdown.  Gronkowski was evaluated on the sidelines by the trainers and finished the game with no further problems.
After the game, Gronkowski was asked about the play and if he remembered the play or if he blacked out for a moment.  His response was "Uh, I remember the moment and everything. And, if I didn't, I still wouldn't even say I didn't.  I want to play this week."
Many fans will admire Gronkowski for his toughness and his attitude.  To a sports medicine physician, this statement is troubling.  The fact that a player would intentionally hide symptoms of a concussion so that he could play is dangerous.  I don't know that Gronkowski had a concussion on this play, because it was easy to see the trainers evaluating him on the sidelines and I trust their decision to permit him to return.  I believe that the NFL is very aware of the concussion issue and is taking the steps necessary to ensure the safety of its players, but I'm not sure they are doing enough.  These players make unbelievable amounts of money and have huge financial incentives to make sure that they don't miss game time.  Gronkowski admitted he would hide symptoms in order to play.  Peyton Manning has admitted to purposely performing poorly on his baseline concussion exam so that it will be easier for him to match or better those results after a concussion.  Other players have admitted to using Ritalin during concussion testing to better their focus and concentration to try to pass the test faster and return to play.  A recent feature on former Panthers and Jets defensive lineman Kris Jenkins illustrates what NFL players go through to stay on the field.
If these professional athletes knowingly circumvent the system and endanger themselves, it may be impossible for the NFL to completely protect them.  What worries me the most about this is that college and high school players see this sort of attitude and try to emulate it at their level.  I have been on the sidelines at both the high school and the college level, and I know how badly some of these players want to be in the game.  Players may not understand how serious and even life threatening a second concussion could be. This makes the job of the coaches, athletic trainers, and team physicians even more difficult when trying to evaluate a player with a possible concussion.  Not only do they have to take into account the exam and concussion testing of the patient, but they also have to be able to see through a player who may be attempting to hide symptoms.
Stories like these raise pose a challenge to the sports medicine community.  As we continue to work with athletic organizations to increase concussion education and strengthen rules that protect players, sometimes the players themselves are working against our efforts.  Now we must convince these athletes that the benefits of playing through a concussion are never greater than the value of their lives.
Share