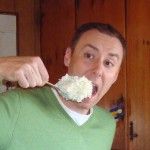 I hope everyone has a safe and happy Thanksgiving weekend.  I have a lot of things to be thankful for (like not being on call this weekend), and I wanted to take the time to write of some of the things that I'll be giving thanks for this weekend.
My family, especially my parents, deserves most of my thankfulness.  I had a lot of love from my family growing up, and I loved living next door to a grandmother who was always busy making all my favorite foods and desserts. My parents are both retired Kentucky public school teachers; early on they instilled in me a strong sense of value for hard work, education, and perseverance.  They have truly supported me in everything I have ever done, and sacrificed time and money to give me the opportunity to pursue whatever dreams I had.
In my career, there are many doctors that have taught and mentored me, and I owe them my thanks.  As a resident, I learned from my attendings the importance of treating patients as people, and saw how much better the relationship was when doctors make an effort to look beyond the charts and see the person in front of them.  I worked with many surgeons in both residency and fellowship that helped me not only hone my diagnostic and surgical techniques, but my patient interaction skills as well.
Running a doctor's office requires a lot of staff to keep it running smoothly, and the people in these positions are often over-worked, over-stressed, and under-appreciated.  These are the people who coordinate schedules, take x-rays, fill out insurance and disability forms, return many patient calls, order office supplies, put on casts, and much, much more.  They are always the first people to receive complaints and the last people to receive thanks.  I hope my staff knows how grateful I am for all their hard work.
I am extremely thankful for my wonderful wife, who puts up with my irregular schedules and listens to me complain if I've had a bad day.  I could talk about her all day but to keep this short I will say that she is always there for me and I am lucky to have her in my life.
Finally, I am grateful to all my patients for making me excited to get up and do my job every day.  You are the reason I do what I do – it is a reward in itself to see my patients go from being in some sort of pain on their first visit back to being able to return to the activities they love.  I am thankful that I get to meet so many different types of people through my practice and I hope improve their lives in some small way.
Share