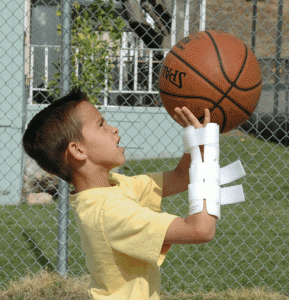 I have been bombarded since last night with questions from friends, co-workers, and twitter followers about Gorgui Dieng's scaphoid fracture and Teddy Bridgewater's wrist fracture.  Since I'm sure a lot of fans have the same questions, I thought I would address some of them here on my blog.  Again, let me provide the disclaimer that I have not seen X-rays of either player's injury and I am not involved in their care.  I am only providing general information on their types of injuries.  Each injury is unique and there are many details that are only known to the doctors treating these athletes.  For general information on scaphoid fractures, see my post from last night.
Q:  Is Teddy Bridgewater's "wrist fracture" the same as Gorgui Dieng's fracture?
A:  UofL has not officially released the specifics of Bridgewater's injury, only that he has a wrist fracture.  Based on the cast that he wore on Saturday in the second half, which was a thumb spica cast, then he likely has either a scaphoid fracture (like Dieng) or a fracture in his thumb.  He could also have more than a scaphoid fracture, such as a distal radius or ulna fracture, but until they release more information there is no way for anyone to know.  Given the type of cast, I'm guessing scaphoid fracture.
Q:  Why is Dieng having surgery and out at least 4-6 weeks while Bridgewater is going to play on Thursday?
A:  Let's assume that they have identical injuries, even though we don't know for sure.
You can play football with a cast (although difficult for a QB) as long as it is padded, but NCAA rules prevent playing basketball with a hard cast on the hand or wrist for safety of the other players.
It is almost impossible for a basketball player to be effective playing one-handed.
Bridgewater has a game on Thursday and then possibly a 5-6 week break, so he can afford to wait until after the game even if surgery is planned.
Q:  Did Dieng make his fracture worse by playing in the second half of the Missouri game?
A:  The risk of playing with a scaphoid fracture is that it can go from a non-displaced fracture, which has a high healing rate, to a displaced fracture, which has lower healing rates.  I have not heard any reports that he has a displaced fracture, so the answer is no.
Q:  Is there a chance that Dieng could miss the entire season?
A:  The only way that would happen would be if the fracture did not heal and went on to develop a non-union or avascular necrosis, which would ultimately require a second surgery.  The chances of this happening are low, but they are not zero.  One thing Dieng has going for him is that the city of Louisville truly has some of the best hand surgeons in the world, so he is in good "hands."
Q:  I have heard of bone stimulator devices, can these be used to make the fractures heal faster?
A:  The research on bone stimulator devices does not give definite evidence of faster healing, and they are generally reserved for difficult fractures or non-unions (fractures that didn't heal the first time).  Some surgeons may choose to use them for athletes with a scaphoid fracture, but this would be a personal preference.  I seem to rememer Dwayne Morton having a similar injury that was treated with a bone stimulator when he played at UofL, but I was only in high school at that time and don't know any  of the orthopaedic details of his injury.
Q:  Have other basketball players had similar fractures and returned to play the same season?
A:  A notable example occurred last year in the NCAA tournament when Kendall Marshall from North Carolina broke his scaphoid in the Round of 32.  He had surgery and did not return for the rest of the tournament.  He was drafted into the NBA that summer and has been playing with seemingly no ill effects.
Seton Hall G Jeremy Hazell had a scaphoid fracture in his non-shooting wrist last season that occurred on Nov. 19th, very similar to Dieng.  Hazell had surgery and returned to play on Jan. 12th, just short of 8 weeks later.  He also had a minor gunshot wound in the right armpit around Christmas-time that may have slowed his return a little.
Q:  The press release said Dieng would be out 4-6 weeks.  Can he return for the Kentucky game?
A:  Orthopaedic research from Dr. Art Rettig in Indianapolis shows that athletes return from operative fixation of scaphoid fractures at an average of 8 weeks (first study) and 5.8 weeks (second study).  The UK game is under 5 weeks away. It is too early to say at this point, because his return will be based on how he does clinically and how his X-rays look weeks from now.  While I am a big UofL fan and would love to see him return for that game, as a sports medicine surgeon myself, I understand that his doctors will make decisions on his return to play based on Dieng's best interests for the long-term health of his wrist.
Q:  Is there a support group for University of Louisville fans dealing with all these orthopaedic injuries?
A:  Not that I know of, but there should be. I'd be one of the first to join.
Follow me on twitter @samcartermd or on facebook for future updates.
Share