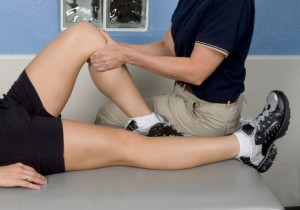 (Note from Dr. Carter – Since physical therapy often goes hand-in-hand with orthopaedic care, I asked one of our local physical therapists, George Herbig II, to share his thoughts on what patients should consider when they choose a physical therapist.  Below are his thoughts on how to pick the best provider for you.)
Many people are referred to a physical therapist by their physician.  When choosing a therapist, it is important to know that you have a choice of which therapist or therapy clinic to go to.
Here are some things to consider:
1.  Is the physical therapist an in-network provider?
An in-network provider provides an in-network discount negotiated by your insurance company.  You can call your insurance company and/or the clinic of your choice to find out the network status of your physical therapy provider.
2. Is the person providing treatment a licensed Physical Therapist?
A Licensed PT graduated from a university with formal physical therapy program, is licensed by the state in which they are performing, and able to evaluate and perform treatments.  In the state of Kentucky therapists are able to treat a patient without a physician's order.
Or the person providing the treatment may be a:
Technician – often a high school graduate with on the job training and no formal education in physical therapy.
PT Student – a student in Physical therapy school.  They are to have DIRECT observation by a licensed therapist.
Physical Therapy Assistant (PTA) – a licensed and educated Physical therapy assistant who must follow the plan of care of a licensed PT.
3.  Hands-on therapy vs. use of equipment
When you call or visit the clinic, ask questions such as:
Does the therapy facility provide hands-on contact with the patient or do they use equipment more often than not?  How many patients does your therapist see per day and can they spend an adequate time with their patient to provide the best service?
4.  Office setting vs. facility setting
Office settings frequently have a co-pay.
A facility such as a hospital-based location often has a large deductible and a percentage of charges for services such as 80/20. Clarify with your insurance whether or not your therapy provider will require a higher co-pay or co-insurance based on the setting in which they are treating.
5.  Location
Choose a location that is convenient from your work, home, or school.  Ask questions such as whether the location has before- or after-work hours to accommodate your schedule.
6.  Know your insurance and how many visits your insurance covers.
Don't be afraid to ask your PT about the utilization of your allowed PT visits for the year.
Many insurance plans limit the number of visits you are allowed per year or require a pre-certification for the number of visits you use.  Your PT should have a plan to utilize those visits that will help ensure the best possible outcome while using the least number of visits necessary.  Managing your visits is very important!
George Herbig II, PT is co-owner of Therapeutic Interventions located in LaGrange and Campbellsburg, Kentucky.  He can be reached at georgeherbig@tiptky.com or 502-222-6446.
Share