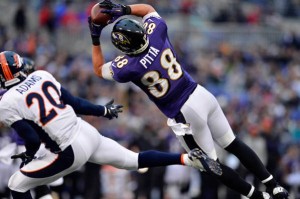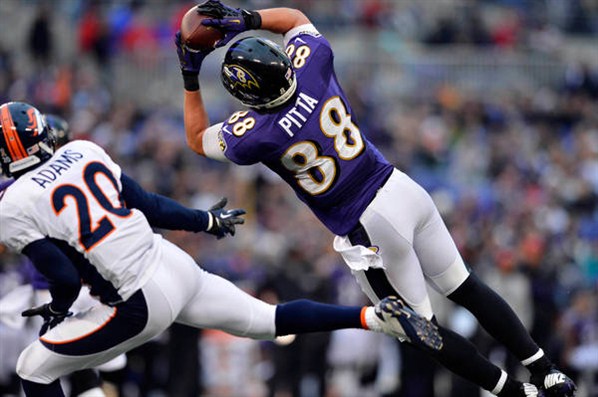 Baltimore Ravens tight end Dennis Pitta reportedly dislocated his hip during practice Saturday after a collision with safety James Ihedigbo. According to the AP report, Coach John Harbaugh said Pitta is expected to remain sidelined throughout the preseason and for the Sept. 5 regular season opener against Denver. If Pitta truly dislocated his hip, this may be an overly optimistic predication for his return to play.
A 2008 article by Kelly et al. published in the American Journal of Sports Medicine followed hip injuries in NFL players from 1997-2006.  In that time period, nine players reported hip dislocations or subluxations, with an average of 126 days (just over 4 months) before return to play. The range for the category was from 16 days to 283 days, and I am certain the player who missed 16 days had a case of subluxation, which is a much milder injury than dislocation.
The hip is a true ball-and-socket type joint.  A hip dislocation occurs when the ball, or femoral head, comes completely out of the hip socket, or acetabulum.  True dislocations generally require at least sedation, and sometimes even general anesthesia to allow the muscles to relax enough for the hip to be popped back into the socket.  A subluxation occurs when the femoral head does not completely translate out of the acetabulum, but it does move out enough to injure or stretch the surrounding tissues such as the hip capsule and ligaments.
Hip dislocations often have associated injuries to the hip that can affect the recovery time significantly.  Commonly associated injuries are cartilage damage, hip labral tears, fracture, sciatic nerve injury, and a long-term consequence called avascular necrosis.  I would assume that if Pitta had an associated fracture or nerve injury, then that would have been reported already.  Cartilage damage and a labral tear would not be known until an MRI of the hip is performed. Avascular necrosis could be a potential career-ending injury but sometimes doesn't show symptoms for years after the initial injury.
What does this mean for Pitta's fantasy prospects?  My initial reaction is that he will be out for a longer amount of time than the team has announced.  Keep your eyes out for updates and more medical information about the injury.  If they change the diagnosis to a subluxation, then he should be ready for the start of the season.  If, however, it is released that he also has a labral tear then he could require surgery (think Percy Harvin) and miss most if not all of the season.
Share