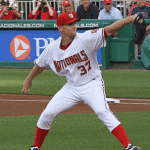 It has been one of the most talked about stories in Major League Baseball this year, and now it is official:  Stephen Strasburg, the pitching ace for the Washington Nationals, has been shut down for the season.  This is made more significant by the fact that the Nationals are in first place in their division and have a real chance to make a World Series run.  Strasburg is coming back from Tommy John surgery in the fall of 2010, and in an effort to protect him from further injury, the management of the Nationals decided to limit how many innings he would pitch this season.  This is a very intriguing story from a baseball perspective, but it also interesting from the sports medicine side as well.
What exactly is Tommy John surgery?  The term "Tommy John procedure" refers to ulnar collateral ligament reconstruction of the elbow.  This is a ligament that is commonly torn in pitchers, given the extreme amount of forces generated across this ligament with the pitching motion.  A tear of this ligament was once considered a career-ending injury for a pitcher, but in 1974 Dr. Frank Jobe changed that by performing a reconstruction of this ligament on a pitcher named Tommy John from the Los Angeles Dodgers.  This turned out to be a revolutionary procedure in orthopaedic sports medicine.  After 18 months of rehab, John went on to pitch until 1989 and win 164 more games.
Strasburg spent almost 12 months rehabbing his elbow before returning to pitch in 5 games in the 2011 season.  The Nationals decided before the 2012 campaign to limit the number of innings that their star would pitch this season.  While the official number of innings was never released, most baseball insiders speculated that it would be somewhere between 160 and 180.  He was officially shut down this week after just over 159 innings pitched.
It is refreshing to see a professional sports organization trying to protect a player from injury, especially when they have a chance to win a World Series, and I do applaud them for that.  In today's sports culture, most professional organizations would not think twice to sacrifice some future success to have a real chance at a championship.  The curious thing about this situation is that there is really no data to support their decision.  There is no orthopaedic literature that supports an inning limit after an ulnar collateral reconstruction.  While it does make intuitive sense that the less that he pitches the less stress the elbow will see, it seems odd to pick an arbitrary number of innings and end his season when he gets to that number.  Strasburg has not reported any problems with his elbow this season, and he seems genuinely unhappy about the decision.  If the Nationals knew they were going to stick to this decision that was made before the year started, then why not limit his innings early in the season and let him pitch more now when the games matter more?
Part of their reasoning may be that Strasburg has a somewhat unorthodox pitching delivery that most pitching experts say put him at particular risk for injury.  There is plenty of biomechanical data on the pitching motion, and his type of delivery places extreme stresses on the elbow.  (For an excellent analysis of his mechanics, see this review by Chris O'Leary).  He has been resistant to changing his delivery in the past, so perhaps the organization felt that more protection was necessary.
Did the Nationals make the right call?  I think only time will tell.  If the Nationals don't win the World Series this year, then I'm sure there will be no end to the second-guessing of this decision.  On the other hand, this should give the Nationals a lot of credibility in player relations.  It is hard to argue that they don't have the best interests of their players in mind.  It would be nice to see more teams in the major sports adopt this type of attitude, but given the amount of pressure on teams, coaches, and players to win now, I would be surprised to see many stories similar to this in the future.
Share