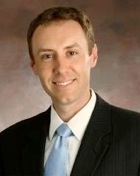 I am a board-certified orthopaedic surgeon in Louisville, Kentucky. My orthopaedic surgery training incuded five years of residency training at the University of Louisville Hospital System, a Level 1 trauma center, and an extra year in fellowship training devoted to arthroscopy and sports medicine at Orthopaedic Research of Virginia, in Richmond, VA. My practice primarily focuses on minimally invasive treatments of orthopaedic injuries and conditions of the knee, shoulder, hip, elbow, and ankle.
I am employed by Norton Healthcare, the region's largest healthcare system. My clinical office, which I share with two other orthopaedic surgeons and two physician assistants, is located in the Norton Medical Plaza at Old Brownsboro Crossing. Our group has established an extensive network of relationships with other physicians, physical therapists, and athletic trainers to help provide you with a total team approach to care. I operate primarily at Norton Brownsboro Hospital, one of the region's newest and most technologically advanced hospitals.
Physical activity and sports are an important part of my life. I enjoy staying active, and my goal as a sports medicine surgeon is to help you stay active as well. Whether you are a high-level athlete, a weekend warrior, or simply looking to walk around your neighborhood, I can help you get back to the activities that you love.